Scholars with strollers: campus child care impacts students
While being a parent may be considered a joy that many might experience, the responsibilities can include busy schedules and financial needs for childcare that extend beyond tuition and books.
The Child Care Learning Lab of the College of Central Florida is an available resource for CF students, faculty, and community members. Children ages 1-5 are eligible to attend during the hours of operation between Monday and Friday from 6 a.m. to 6 p.m.
In the past, the lab physically served as a teaching laboratory for the CF Early Childhood Education degree program. The classrooms were observed regularly by CF students and faculty, and since the COVID-19 pandemic these observations have remained virtual.

For Kimberly Sellers, the Learning Lab's director, increasing tuition was up in the air before the COVID-19 pandemic hit. That idea later faltered.
"Many students struggled financially due to the COVID-19 shutdown," Sellers said. "I decided that tuition prices would remain the same when the college and the lab reopened."
Since being reopened, the lab has operated at 75 percent capacity mainly due to staffing shortages the lab and several other companies have seen resulting from the COVID-19 pandemic.
Julia Hernandez, a teacher at the Learning Lab who graduated from CF in 2016 with an A.A. degree in early childhood education, is described as "prompt", "reliable" and "fun" by her coworkers.
The 1-year-olds in Hernandez's class often play with sensory objects appealing to their five senses, dance to music, go outdoors, have story time and learn sign language. She believes that every child has a different learning style, and she works to accommodate these differences through activities that suit each one.

For Hernandez, on-campus child care is important for the convenience of students because their children can remain close. Interactions with these parents are meaningful to her.
"I feel the proudest when parents react to what their child learns in class," Hernandez said.
CF also offers a variety of student services and campus amenities,  including career and counseling services. Campus amenities include areas located around campus for studying and a yoga studio.
Lead faculty member Kathleen Robbins is responsible for training CF students like Hernandez to work in the early childhood education field and the Child Care Learning Lab.
Robbins said, "The lab allows CF students that have children the ability to reach for their goals and further their education while their child grows cognitively, socially, and emotionally."
Robbins believes that a crucial lesson for aspiring teachers is to understand is the importance of the development of children in their care and that the Child Care Learning Lab does a great deal to achieve this.
"The lab school prepares our Teacher Ed students for their future careers," said Robbins.
"Overall, I truly believe that the lab offers a great deal of value to anyone that has a privilege to be a part of it."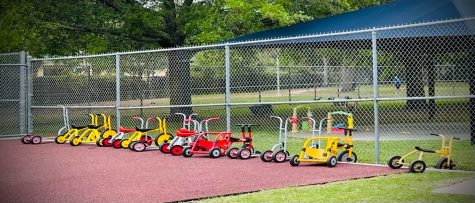 Sellers is currently seeking part-time employees for the lab. Prospective teachers should contact Sellers at the Learning Lab for more information. Sellers added that the lab members' fun and cohesive nature makes class enjoyable.
"Working in the lab is great because we're like a big family," Sellers said. "You're also helping students further their education while giving them the satisfaction of knowing their child is loved and cared for."