The benefits of taking summer classes
Why some students prefer summer classes over others.
The College of Central Florida has always prioritized its student's accessibility. Many students find the availability of quick, in-depth classes extremely helpful. Summer classes are the key to satisfying those students, and professors can benefit from them as well.
The benefits of summer classes include extremely detailed classes, as well as helping students with an attempt to graduate early, since summer classes are broken down into mini semesters that take six weeks to complete rather than 16.
However, summer classes can have their drawbacks as well. They are known for being difficult, due to the intensity of the time-constraint. It is often recommended by student advisors to not overload with your summer classes.
Perie Shah, a current freshman at CF will be taking classes this summer.
"I chose to take classes this summer because I will be away the whole time and wanted to stay ahead in my studies." Said Shah. "I like how I can take them all online."
Students like Shah take these summer classes for the benefit of their own personal schedule. Shah will be spending the summer with family in Los Angeles, so she is choosing to take her summer classes online in order to continue her education while out of state.
This can also apply to any student who may have a busy schedule.
When scheduling summer classes on the CF website here: mycf.cf.edu, under the enrollment tab, one can observe that almost any class available to students is also available in an online setting.
Students can use this aspect to merge their classes with their own personal life in a way that fits their schedule.
Another benefit to summer classes is how short they are. Being only six weeks long, summer classes are considered accelerated courses.
Students like Joseph Cabrera, a fellow freshman, may be graduating early due to taking those summer classes.
These accelerated summer courses allow students to finish up their studies in less than the two years it normally takes to get an Associate degree. The graduation requirements can also be found on the CF website: cf.edu/academics.
Cabrera said, "I only have a few classes to take over the summer, and then I'll be able to graduate."
For students on the path to an early graduation, taking summer classes is crucial.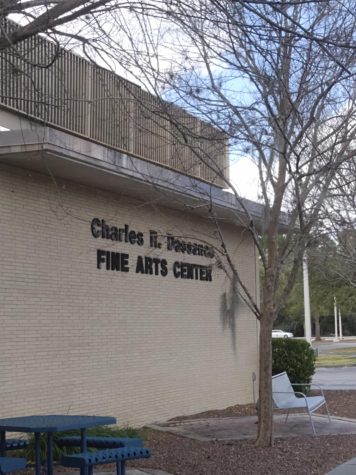 Students at CF may also benefit from the child-care offered year-round. For students with jobs and children of their own, taking summer classes can be a lot on their plates, luckily the child-care service CF provides continues into the summer as well.
For more information about the child care services at CF check out this other story on the Patriot Press: thepatriotpresscf.com/campuschildcare.
Staff like Karen McRae, a statistics professor at CF, notice a change in pace during summer classes.
McRae said, "Although, the courses offered are condensed into fewer weeks, the atmosphere (at least for me) is more relaxed."
Dr. Jennifer Fryns said, "We have a really high percentage of full-time faculty teach in the summer, but the pace on campus feels like it is a bit more relaxed."
Overall, summer classes have benefits when compared to fall/spring classes. Some students and faculty may prefer one over the other, but the option of summer classes is always a great resource for students who may need it.
Fryns, a faculty member, agrees that the option of summer classes is beneficial.
"Summer terms are often a great time to take advantage of some of the incredible resources that a student might feel too busy to use in the fall and spring," said Fryns