How a Bronze Medal Capped an Incredible Journey
Brittany Bowe should be an inspiration to all of us.
A bronze medal in the 1,000-meter event at the Winter Olympics in Beijing is the crescendo of events for the Bowe family, but it's just one part of a road less traveled, a path full of challenges and a story about family and belief.
Behind the smile on the podium is an inspirational journey that can only be told with the help of a very proud mom, former longtime CF employee, Debbie Bowe.
Elana Meyers Taylor was supposed to carry the American flag during the ceremony, but she tested positive for COVID-19 and could not attend the event.
"That was such a sweet moment when Elana was on FaceTime because she had been quarantined in Beijing, and for her to tell Brittany she was going to be the one to carry the American flag," Bowe said. "It was a beautiful moment."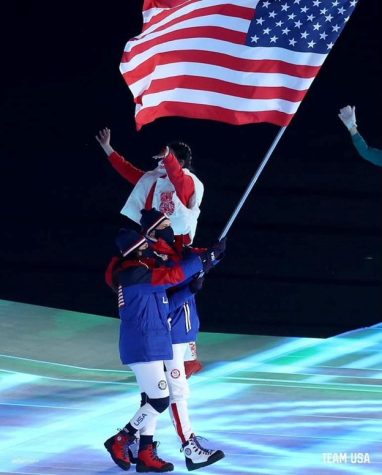 NBC came to the Bowe residence in Ocala when Brittany was selected to carry the American flag during the opening ceremonies. I asked Debbie Bowe what it was like to watch her daughter carry the flag.
"Overwhelming," Bowe said. "We are so patriotic, and the flag represents everything to us."
Bowe was gracious enough to have a lengthy conversation with me about her Olympic experience and share some insight on what it took for her daughter Brittany to achieve this great success.  I felt as though I was taking a master class in life experience and being treated to a story that genuinely inspired me.
Debbie Bowe had spent 40 years as an educator, including 30 years right here at CF, where she started as a counselor in 1990. Her personal journey at CF led her from counselor to school relations director, and then to dean of teacher education, where she helped build the teacher education institute.
Bowe retired in 2019 and was quick to credit her time at CF as being a "wonderful experience" that she continues to be a part of to this day. She recently gave a speech titled "Take a 360" at the Association of Florida Colleges meeting, where she spoke about "taking a 360 viewpoint in order to … make a positive difference and offer a hand up."
Among her many responsibilities at CF and many accomplishments, she proudly recounts her participation in developing the Student Success Center.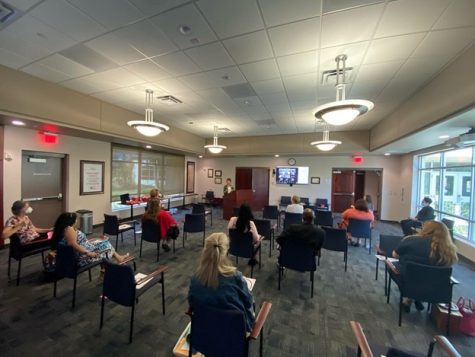 "With the help of Chenita Hart, I was able to spend my last three years working in Student Affairs, where we could focus on the importance of blending both instructional affairs and student affairs together as one, and centralize student advising," Bowe said.
Speaking about what's best for students led our conversation to her daughter Brittany and the incredible journey that took her from a little girl in Ocala to a speed skating phenom in Beijing.
I had to ask how a kid in Florida becomes a competitive speed skater on ice at all and what the odds are.
"We went to an 8-year-old's birthday party at Skate Mania here in Ocala," Bowe said. "A speed skating coach for inline skating was getting ready for her practice after the party. She had seen Brittany skating around at the party and came over to Brittany's dad and me and said, 'She looks fast,' and asked if she could try speed skating."
Brittany started inline skating and eventually went on to compete as a successful inline skater at every level, winning national titles, world titles and a gold medal at the Pan American Games.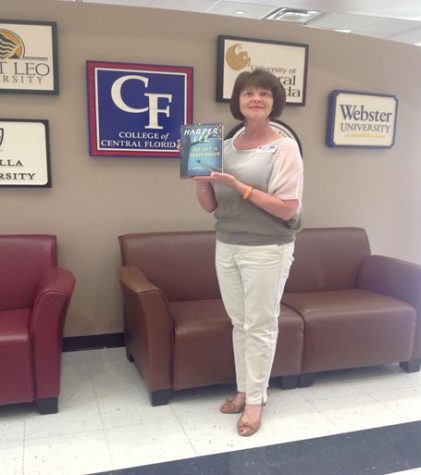 "There is no Olympic venue for inline skating in the summer Olympics," Bowe said. "If you take a look at the Winter Olympic speed skaters on ice, there's about 85 percent of those that make the Olympic team that have transitioned from inline skating to ice skating because they do have that Olympic dream. That's how she ended up being that Florida girl going over to ice.
"In 2010, Brittany graduated from Florida Atlantic University, where she played Division I basketball," Bowe continued. "While watching the opening ceremony of the 2010 Winter Olympics and seeing several of her inline skate friends had transitioned to the ice, she decided then that she was going to become an Olympian."
Both Brittany and her sister Brooke were in competitive sports, and it was evident to me that family support had played a role in Brittany's success.
"You feed off of each other as athletes and you absorb and respect as much as possible from your coaching staff,"  Bowe said. "That was just the atmosphere we created here at home. You focus on the good, you surround yourself with the best, and you absorb and be thankful."
After disappointing results in the 2014 Olympic Games in Russia, Brittany experienced a setback while training. In 2016, she suffered a concussion after a collision with a teammate, and Debbie remembers how much of a struggle it was for Brittany to work her way back from that terrible accident.
Along with concussion symptoms, according to her website, Brittany was "diagnosed with Postural Orthostatic Tachycardia, POTS, which essentially means the body does not control blood pressure or heart rate after you stand up."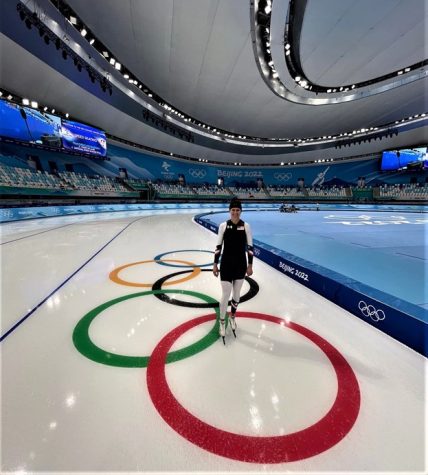 "On some of those darkest days that was real dark, and Brittany didn't know if she would ever put on skates again," Bowe said.
One thing I've learned from following sports, as both a writer and a fan, is that top athletes are just cut from a different cloth than the rest of us. They want to get up and get right back in the fight, whatever it takes, but concussions are a very different type of injury that challenge even the toughest athletes.
"When you have a head injury, you have to almost give up the mindset of saying 'I'm going to push through it,' because you have to totally rest and heal in different ways that were new to us," Bowe said.
"The College of Central Florida was beyond wonderful to Brittany and me at that time because I did take extended time off to go and be with Brittany," Bowe said,  "I'm so grateful to everybody that treated Brittany like their own family, their own child, during that concussion time."
Brittany recovered enough to compete in the 2018 Olympics in Korea, where she finished as high as fourth in the 1,000-meter individual event and won bronze in the women's team pursuit event. Given her circumstances, successfully competing at that level just two years after a serious head injury is an unbelievable accomplishment.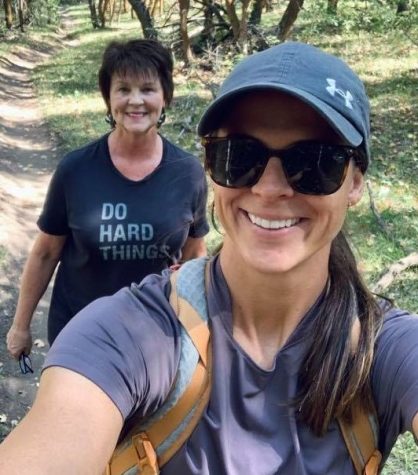 When asked about her daughter's ability to overcome adversity, Bowe said, "Her level of dedication and perseverance is second to none."
Talking about Brittany's concussion made me ask Bowe about the moment that Brittany gave her spot in the 500-meter to Erin Jackson, and if she was surprised at all when Brittany did that.
"Not one bit," Bowe said. "Erin and Brittany grew up together. As soon as I saw Erin slip, my heart sunk for her, but then the camera focused on Brittany sitting on a bench, and as soon as I saw Brittany's disposition and her face, I knew what she was thinking."
Erin went on to win gold in the 500-meter event, and it became one of the top stories of the 2022 Olympics.
Debbie had recently spoken with Brittany about the story, and she revealed some of their conversation.
"In Brittany's words," Bowe said, "she said, 'I just did it because it was the right thing to do. I didn't realize it would be such a beautiful effect for so many people to take a look at making decisions that are bigger than just yourself.'"
We talked about being a parent, and how challenging it is to stay supportive of your child's dreams and to foster their abilities. When asked to share some insight into what it was like being a mom of an Olympic athlete, Bowe stressed the idea that a positive environment can lead to great individual achievement.
"Step back. Feed them, get them where they need to be, pay the bill, and don't allow yourself to talk in negative ways about other people," Bowe said,  "I am going to write a book about parents and sportsmanship."
Brittany and Brooke have taught their mom to "have fun along the journey."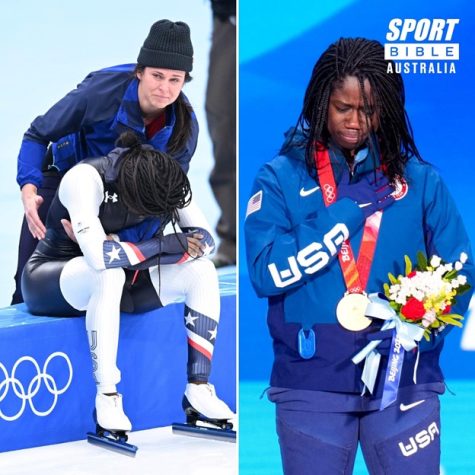 Brittany has been through a lot, and I have a daughter of my own, so I know that Debbie has also been through a lot right alongside her.  Parents do that you see, we feel what our kids feel, and at the end of the day all we really want is to watch them be happy.
"To continue to have that balance in life and that it's her goal, it's not mine, I just show up," Bowe said, "Let your children dream and forget trying to control.  Both Brittany and Brooke were the happiest kids going into their sports."
Knowing what to do in support of your child's happiness, their success, their growth, that's the hard part if you ask me.  Debbie simplified this for me, and she may not have known this was happening at the time of our conversation, but my mind was already rolling around new ideas and different perspectives.
Step back and allow them to become who they want to be by replacing control with support, fear with belief, and don't be afraid to challenge yourself to be successful in front of them.
"Children learn what they live, it starts when they're young," Bowe said. "And they see everything that you do."
Brittany is still the fastest woman in the world in the 1000m, setting the world record of 1:11.61 at the World Championships in 2019.
Asked if she could sum up the events of 2022, Debbie put it all into one very proud word, "priceless."
Bowe said, "I loved being a mom, and still do. It's the best title in the world."