The purpose and people behind Public Art
Panelists Oaklianna Caraballo, Cecilia Lueza, and Pamela Zeljak spoke at the Free Public Art Forum event about the significance of public art, and how to take part in it.
The event took place in the Citrus Campus Conference Center on Monday, March 7, from 12:30-2p.m. During which, attendees were welcomed to free food before being seated to listen to a discussion from the panelists.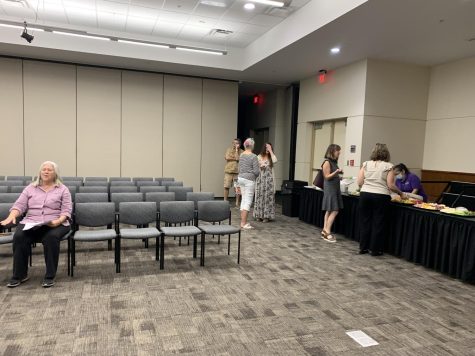 Zeljak, an associate principal at Manifold Creative Concepts, gave a brief history of public art. According to Zeljak, public art can be anything from murals and sculptures to even architecture and performances.
Community is a big part of what makes public art. It can bring tourism and a sense of uniqueness to a community. It can also be a way for communities to represent what is important to them and their cultures.
"Visual storytelling helps individuals understand what other people are going through," said Zeljak.
The same can be said for the impact public art has on college students.
Caraballo, an art and state buildings administrator for the University of Florida, believes there is no age range on who public art can impact. In fact, student artwork displayed at CF could also be considered public art https://thepatriotpresscf.com/1401/arts-entertainment/student-talent-on-display-around-campuses/
"Public art can present the opportunity for reflection for college students," said Caraballo.
Anissa Beatty, 18-year-old CF student, said that the event did impact her. "I love hearing them talk to a broader group and spread awareness," said Beatty.
There is also a way for college students, or younger individuals in general, to have a role in creating public art for their community.
Lueza, a studio and public artist, gave advice on this.
According to Lueza, there are workshops in Tampa where students can share their ideas, and work with an artist. "The information from students is incorporated to create murals," said Lueza.
Studio artists who may be wanting to create public art, according to Lueza, can look for calls for artists and submit their qualifications and approaches. Once a few artists are selected, they work on proposals and concepts. From there a finalist is selected, and a contract is made.
The work can take anywhere from a few hours to several months. "Often times the artist works with engineers, contractors, or even companies," said Lueza.
The panelists believe anyone interested in creating or having a role in public art should visit a public art network called Americans for the Arts https://www.americansforthearts.org/. The website is free and so is an account with them. There is also the Florida Association of Public Art Professionals.
As for what to do when faced with a piece of public art, "Enjoy it," said Caraballo, "Take the time to stop."