Student talent on display around campuses
How CF collects art from current, past students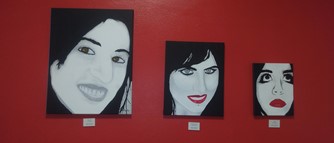 When walking through the halls of CF, students may be greeted by frame after frame of artwork, most of which have been created by students majoring in art related degrees.
CF began collecting student art about 50 years ago, and since then they have been working to keep the walls decorated and updated.
An employee of CF for almost 12 years, Two-Dimensional Art Professor Tyrus Clutter has taught many classes, primarily focusing on drawing, painting, printmaking, and basic design.
Clutter said, "Several of them are students that I have had" when speaking about the artists behind the art.
Not only do CF campuses feature student art, but they also include pieces that have been purchased over time from Fine Arts for Ocala, which holds many events relating to the arts.
All the student-bought work has a nametag located near the piece that depicts the title of the piece, the artist's name, and an inscription reading: "College of Central Florida Permanent Art Collection."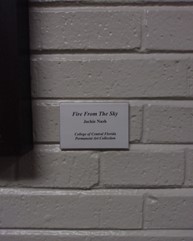 The art in the collection is not donated like in some large galleries, it is instead bought off the students themselves.
The sale can boost young artists' confidence in their work, although some students are too attached to their work to sell it.
Clutter said, "They're selling it through the gallery."
There is an annual art show held in the Webber Center at the Ocala campus, their event list can be viewed here: Webber Gallery < College of Central Florida (CF.edu)
This year, the exhibition is open to the public through March 11, although many teachers will be looking through the collection early.
Clutter said, "[They are] trying to get staff to come from different buildings and pick out things they would like."
Clutter also mentioned that teachers are encouraged to view collections because allowing the staff to pick their own pieces ensures that they will "enjoy the way their nearby public spaces are decorated."
To get their art displayed one must go through CFs' art classes, which can be applied to through the CF website here: cf.edu/admissions.
The permanent art collection is currently available at every CF campus except for the Vintage Farms campus located in Marion County.
However, CF President Dr. James D. Henningsen would like to change that "within the next year", according to Clutter.
While most student art being displayed is either a painting or a collage in a two-dimensional form, there are also a few three-dimensional pieces scattered around.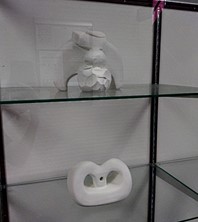 Being in high-traffic areas, the three-dimensional pieces are more likely to get broken when displayed in public spaces, which is why they are a rarity.
The art majors at CF are centrally located at the Ocala campus due to many other campuses not offering art classes.
For more information about art classes and CF's featured hallway art, students may contact Professor Clutter at [email protected].
While there may be an absence of art classes on some of the other campuses, CF displays physical art for everyone to see.
One CF art major, Alexis Sant said, "The lack of art classes on the Citrus Campus- apart from the history of art- is unfortunate."