Covid poses new challenge for campus safety
Public Safety rises to the occasion
Covid has impacted all of us in different ways.  For some students, the decision to attend in-person classes relies upon a safe environment.
This semester, students and staff at CF have been slowly getting back to normal operations as stated in a recent article: CF's Updated Continuation Towards Normalcy – Patriot Press (thepatriotpresscf.com)
Having protocols in place that provide some structure for students and staff to follow is important.
Public Safety is responsible for campus safety and security.  Changing mask mandates and the increased risk due to the Delta variant have put further stress on a security staff that already has to contend with the logistics of keeping CF safe for students and staff daily.
Before the pandemic, crime rates on campus had been very low.  According to official reports, there has been only one arrest on campus in the last four years and it was in 2017-18.
In the current reporting period, from October 2020 to September 2021, the only incident on record was a referral that was handled internally.
According to Mickey Guerin, manager of CF Public Safety, a referral is an incident that is handled without the need for external law enforcement, which makes it very different than an arrest.  Guerin was asked about the referral in question via e-mail correspondance through Director of Marketing and Public Relations, Lois Brauckmuller, APR.
Guerin said, "There was no maliciousness, and the student was referred to a dean for guidance. The case was resolved without incident."
John Blackstock has been a student here at CF since 2017; he is very familiar with taking classes at night, and being around the library, and he didn't hesitate to respond to questions about campus safety.
Blackstock said, "I walk around the campus, and everybody is really friendly and you see security guards here and there and you wave.  I'd say I feel pretty safe."
It's usually easy to spot Public Safety personnel, just look for the friendly folks driving around campus on the little carts with the security logo.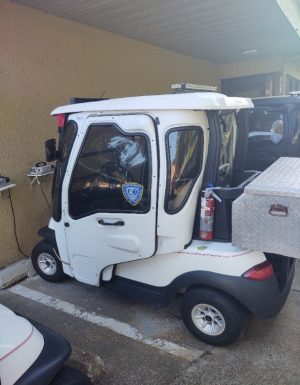 "It's really rare to hear anything going on," Blackstock continued, "but there was kind of, somewhat recently, an issue where a guy was talking a little bit too much to some of the females and making them feel a little bit off.  Security immediately took care of it."
That kind of immediate response and resolution is what students should expect from Public Safety.
As CF has encouraged online and distance learning formats this semester, while still providing in-person classes, that agenda has provided a safer environment for all students.
As expectations were being discussed in the spring, that was part of the plan that was talked about in this article here: CF's expectations for classes in 2021 – Patriot Press (thepatriotpresscf.com)
Sherica Smith was a student at CF from 2010-2015 and returned to study this year.  She has taken classes on campus before the pandemic, and during, and she was asked to compare safety on campus during the pandemic with the safety of other establishments.
Smith said, "Yes I do feel safer here.  And I think part of it is because since a lot of classes have been pushed to online or a lot of classes have been made hybrid, that there is automatically less traffic, less students, so it kind of creates a space where you're able to socially distance from one another."
During the peak of the pandemic, many services needed to be temporarily altered as CF figured out the best way to keep classes going.
According to Dr. Vernon Lawter, Vice President of Regional Campuses, CF has maintained a steady influence through the department of Public Safety in spite of a challenging economic climate.
Lawter had also been reached through e-mail correspondance via Brauckmuller in order to comment on the way the pandemic may haved altered security monetarily, where his answers were returned as stated.
"There have been no budget cuts related to campus security as a result of the pandemic," Lawter said.  "CF Public Safety maintained a presence at Marion, Citrus and Levy locations throughout the pandemic, even when buildings were closed to the public and while classes and services were delivered remotely."
Public Safety offers additional services to students and staff that don't involve monitoring for crime and maintaining peace, such as providing vehicle assistance if you lock your keys in your car.
Public Safety provides a detailed list of all the services they offer, as well as tips and safety training on the CF website.  One of the most important safety resources on campus are the emergency call boxes located in the parking lots.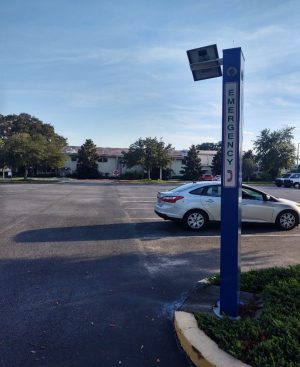 Emergency call boxes like the one shown here from parking lot P6 are identified on the campus map by a telephone symbol.
They connect directly to Public Safety in the event of an emergency.
One of the things that some students would like to see addressed is the issue of adequate lighting in several of the parking lots.
Smith said, "If for some reason the parking lot may be full, then there's not much lighting at the very back of the parking lot."
Blackstock said, "I'd probably say this parking lot over here, it's under a lot of tree cover, maybe there could be little more light over there."
Making sure that Public Safety gets feedback like that will go a long way in helping them maintain a safe campus for everyone.
Part of being safe on campus requires students to be aware of what's going on around them. The CF campus is a community and students need to look out for each other.
"I always encourage students to be vigilant and know their surroundings," Guerin said. "If something doesn't feel right, it probably isn't. Follow your gut instinct."