CF's updated continuation towards normalcy
Student information regarding Fall Semester
The College of Central Florida has recently begun 2021 Fall semester classes, and many students are once again settling into both online and classroom courses. While some students may be settled into their new school schedules, there are still questions and updates related to new Covid-19 protocol for in-person classes.
While all CF campuses continue to strongly encourage the use of masks while indoors, the personal choices of individual students and staff remain respected. CF also encourages receiving Covid-19 vaccines, but as of current CF is not aware of the statistics of vaccinated students or staff, which remains private.
CF Vice President of Academic Affairs, Dr. Mark Paugh said, "We're excited to be back to offering approximately the same number of in-person courses as we did prior to COVID-19."
Back in Spring of 2021, many in-person classes were limited to hands-on curriculums, with most classes being taken online, as stated in this article: https://thepatriotpresscf.com/1055/home/cfs-expectations-for-classes-in-2021/
However, as students, faculty and staff adapt, CF has seen a greater number of in-person classes beginning to make their way into more student's schedules this semester.
For those who are taking in-person classes this semester, it is encouraged to report any illness to Cf's registrar and allow proper precautions to be made. Students in classroom settings may also be informed of any exposure or close contact made with Coronavirus in order to take precautions of their own.
CF Freshman Alexis Duncan, 18, is a nursing student with a full schedule that has experienced this first-hand while taking all in-person classes this Fall semester.
Duncan said, "In one of my classes we were told that a classmate had tested positive, and they told us to monitor our symptoms for the next 14 days."
Not only did students previously lose the ability to take in-person classes, but student assistance and services were no longer available to be utilized in person either.
Students that request or require student services such as tutoring, financial aid assistance or advising can now look forward to finding all and more available in person once again.
Per Dr. Vernon Lawter Jr., administrator for the CF Covid Task Force, there have been 192 CF student Covid cases across campuses, with 73 being actively positive as of Wednesday, Sept. 9, 2021.
Updated statistics as of Wednesday, Sept. 28, show that active employee cases have dropped 50%, and active student cases dropped from 73 to 53.
The same information concludes that to this date, the combined amount of student and employee cases of Covid-19 is 288, with students making up 225 of them.
Cases had recently spiked in August, with student cases rising from seven in July to 66 in August, and employee cases rising from three in July to 12 in August, another statistic introduced by Lawter showed.
Cases seem to be slowing down late September with total reported cases totaling 78 in August and 61 in September, along with hospitalizations down 36%  in a 14 day change.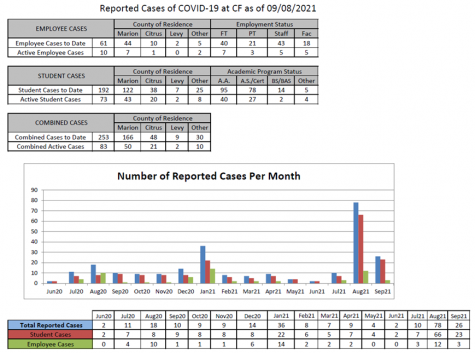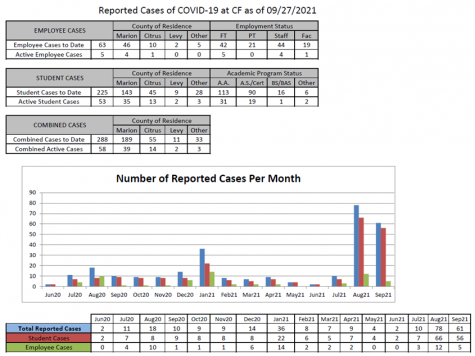 According to the same statistics from Lawter, the month of September brought less cases than previously seen, with student cases for the beginning of September at 23, and employees down to three.
The College of Central Florida remains optimistic about current and future semesters and the hopeful return of normal daily student life across all campuses.
As CF President Dr. Jim Henningsen said, "By working together we can more quickly return to normalcy and ensure that our focus is on education."