CF honors Women's History Month through open mic poetry
March is Women's History Month, a time to honor and celebrate the hardworking women around the world.
This past Wednesday, Mar. 23, 2022, CF hosted an open mic event at the library in honor of Women's History Month.  Students were encouraged to step up and recite poetry that respected, honored, and celebrated women.
"We decided to use an open mic format to not only get students to open up and share with each other and connect, but to reflect on the fact that women have done phenomenal things," said Maya Thomas, 19, a member of the Student Activities Board.
Students and staff alike came forward to tell their stories and share their works.  Advisor Deyanira Garcia, 43, was first to speak.
"I am for empowering women," Garcia said.  "We're always taught to depend on other people from childhood and to be a caretaker. I think it's important that women are independent."
Student Savannah Metelus, 19, reflected a similar sentiment when asked what she hoped other students would gain from attending the event.
"Some new learning when it comes to understanding the roles as a woman and not just seeing us as caregivers," Metelus said.  "We can be other things too, and that's what makes us so great."
Metelus also spoke about a particular aspect of feminism and female empowerment that often gets overlooked.  Women of color face a unique form of discrimination due to their intersecting identities. 
Metelus recited Maya Angelou's Phenomenal Woman as a form of empowerment for her.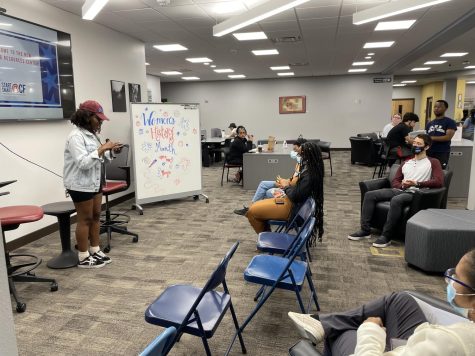 "As a minority woman, sometimes you don't feel 'woman' enough because there's no representation," Metelus said.  "Usually, the people who are on the forefront don't look like me. I felt it was important to have spoken words from a woman of color."
Metelus is referring to a concept called intersectionality, which acknowledges "everyone has their own unique experiences of discrimination and oppression" (Womankind Worldwide). 
Intersectionality is crucial as it acknowledges the different struggles different marginalized women face.
In order to have inclusive female empowerment, one must consider what different types of women need to feel empowered.  For more information on intersectionality and its importance to female empowerment, click here.
Students enjoying a round of Women's History Month themed bingo
The inclusion of different women at this event helped other students gain a better perspective.  Nadine Knight, 18, said she learned something new.
"I decided to come to this event to learn about the experiences of other women," Knight said.  "Seeing different races and sexualities come together and talk about their experiences is a great way for me to understand more about being a woman."
Aaliyah Gouveia, 20, hopes events such as these will encourage students to create a positive change on campus and in the community.
"I want more female groups and women empowerment," Gouveia said.  "They should talk about mental illness and homelessness in women. It's okay to fake confidence, but why do we always have to be confident?"
"We kind of push down our daughters by what they wear, what they say, and that's not female empowerment," Gouveia said.  "People need to think about not judging them solely about what they do, but who they are."
If you are interested in connecting with other students and learning something new, click here to see a list of upcoming events at CF.
Through hosting these events, CF hopes to create a welcoming environment where students can feel free to share their experiences.