Citrus County Campus Preview Night
A successful event for all students and faculty involved. 
Students from local high schools in the Citrus County area showed up to CFs' citrus location for our preview night on Thursday, March 10, 2022.  
The CF preview night is held annually to show off what the college offers for high school students. 
 Some of the discussion's students can have during this night are the following: talks about financial aid, university partnerships, club opportunities, and scholarships. Many students have found this event helpful in past years. 
The Patriot Press has showcased articles on past preview nights. https://thepatriotpresscf.com/356/uncategorized/cf-hosts-its-annual-college-preview-night/.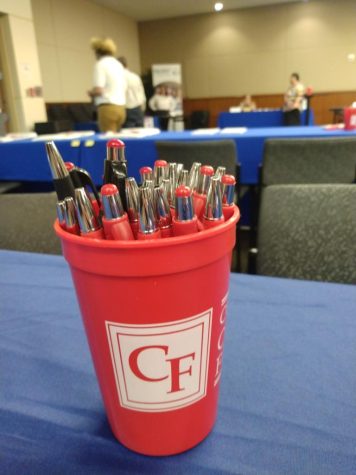 Each table was represented by a faculty member or current student. There was a total of 25 tables set up around the room, in which visiting students could find out more information about the college.  
Most tables were hosted by representatives of different areas at CF.  
There were also two tables hosted by other colleges. The University of Florida had a representative, as well as the Florida Agricultural and Mechanical University. Both schools' partner with CF. 
Most students were there to learn more about what CF itself has to offer.  
"I even got questions answered about financial aid and disability services," said Jennifer Dooley-Houston, mother of Johnathon Dooley, who will be attending CF in the Fall. 
Some students came without their parents, like Kylee Desmond, a Senior at Lecanto High School.  
"I really just came to find out if this college is an option for me," said Kylee.  
High school students were informed this event was happening by phone calls from the districts' superintendent.  
"I think I might actually end up going here, especially if there's always free pizza," said Kylee.  
As an incentive for families to attend, despite the gloomy weather forecasted on Thursday, CF offered free pizza and bottled water. It was a welcome addition for all attending.  
A couple of current CF students attended as well, and not just for the pizza.  
"I actually went to this expo last semester, and it was very informative," said Miguel Caquias, an enrolled student.  
Most of the tables had free items set out for families that visited. Paraphernalia for CF included, pens, fliers, hand sanitizers, and phone accessories.  
The student ambassador table displayed their event fliers on a poster board, along with Polaroid pictures of the members. One event with a large turnout was their Club Rush event in September.https://thepatriotpresscf.com/1144/events/reflecting-on-cfs-club-rush-event/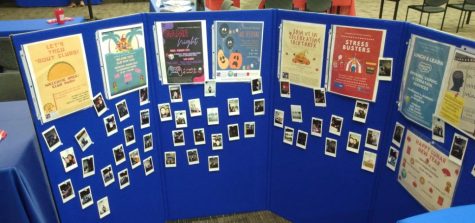 Vernon Lawter, the Vice President of CF at Citrus, showed his support at the event. 
"We normally have a good turnout, sometimes the weather affects that of course, but it looks like we've got a pretty good turnout tonight," said Lawter.  
At the end of the night, a total of 142 people had attended the event, high school students and their families, current CF students, and anybody else considering CF for their college of choice showed up. 
By the time the tables were taken down, a large amount of people had committed to CF becoming their next adventure.  
"We had quite a full room in our admissions center," said Sonya Warden, head of student affairs at CF. Applications for CF can be found on the CF website. https://mycf.cf.edu/ICS/Admissions/Apply_Now.jnz. 
Overall, the event was very successful, and CF got a lot of future students out of it. The energy in the conference room stayed high all night and attendees were happy to talk about how nice it was.  
"I'm very happy with the way it turned out and it was nice to see all the support we received from the Citrus County schools," said Sonya Warden.