Professor Holmes reflects on 60 years of the International Film Series
Professor Ira Holmes, founder of the International Film Series at CF, is proudly celebrating 60 years of successful showings and recalling the genesis of the program he created.
When asked about the series' success Holmes said, "It's nice to say what I've done but the truth of the matter is, it's a success because of so many people who have contributed their time and their money and their care."
When talking about the inspiration behind starting the international film series. Holmes responded, "Sometimes things are inspired by self-interest, and that was certainly my case, way back then."
Liz Minnerly, long time film series member, recalls Holmes' recent confession.
She said, "He created the International Film Series for selfish reasons; he wanted to watch foreign films which were not readily available in Ocala back in 1962.  We should all be so selfish!"
Along with his passion for travel and teaching, Holmes has a deep love for film, especially foreign films. His first experience with foreign films sparked a fire, which still burns today.
Holmes recalls his first moments with these films.
"There was a film club when I was at Stetson, and that's one of the reasons I got into watching foreign films. I thought 'man, these are amazing!'" said Holmes.
At the time, it was difficult for Ocala residents to get involved in international films due to the limited showings at local theatres.
"If you wanted to see a foreign film you would go to Orlando or Jacksonville, or you went to a convention somewhere like Philadelphia, Chicago, or New York," said Holmes.
Holmes remarks on his state of mind at the time: "Why can't we have this in Ocala?" When he got to CF, he decided it was time.
"We set it up in the student club, we had a $2 annual fee, we had 100-150 students and people from town who joined and supported the club and it showed there was interest there; I was very pleased about that. And that interest has been maintained over the years."
When asked why the series still works today Holmes responded, "Generally, I think, the reason people come is not just to see a film, but people want to talk about it after words. It's the social activity—we're social beings and that's really important."
Taking a closer look at his time as director, he shares his memory of the decision-making process.
"When I was directing the film series, we had a committee of about 5-6 instructors in Humanities, Fine Arts, and History, and we would talk about the films. We would have a questionnaire at the end of the year asking those who came what films they would like to have in the coming years," stated Holmes.
Holmes shared his thoughts on why CF students should get involved this season.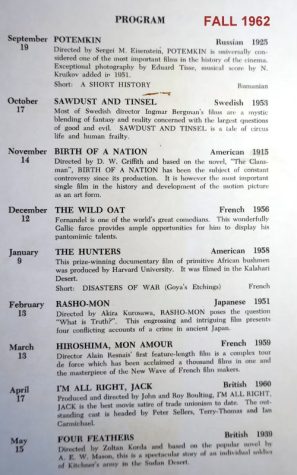 Holmes said, "I encourage my students to see at least one international film, because it's a window on the world, it's a way of traveling, especially if you can't afford to travel, financially or because of COVID, it's a way of looking at other people, other cultures, other time periods, and having a better understanding of who they are and who we are."
Holmes discussed the importance of international films in today's social climate.
"We like movies in America with happy endings because we go for entertainment, we don't go to think, but a lot of foreign films really force you to think, and sometimes they don't have happy endings, but life is not always a joy," said Holmes.
Recently, a name changed that honors Holmes has been made official. The series now called The CF Ira Holmes International Film Series. Holmes remarked humbly on the new name:
 "I had mixed feelings; I appreciate it."
"You ought to be recognized for what you have done; your family should know it, your friends should know it, I didn't ask for it but there it is and I appreciate it," he continued,
"But I'm not going to call it the Ira Holmes Film Series, I'm going to call it the CF Film Series," said Holmes to conclude the sentiment.
Professor Holmes directed the study abroad program at CF for 25 years. Through travel, he got to experience foreign films firsthand. After reminiscing about his time in London and Paris, Holmes recalled another location he thinks of fondly.
"I'd put on that list of favorite cities; Ocala, believe it or not; what a contrast! Ocala has been a good place to live, good people here and good things are happening; I'm a part of it and I'm happy to be a part of it."
Looking to the future of the series, Holmes is excited to moderate a discussion on one or two films a year. He has passed the role of director onto Wendy Adams but wants to stay involved in his creation when he can.
In honor of the 60th anniversary, Adams chose movies from 1962; the year the series began. On this list we will see: King Kong vs. Godzilla, The Temptation of Dr. Antonio, To Kill a Mockingbird, and Professor Holmes' personal favorite; Cleo from 5 to 7.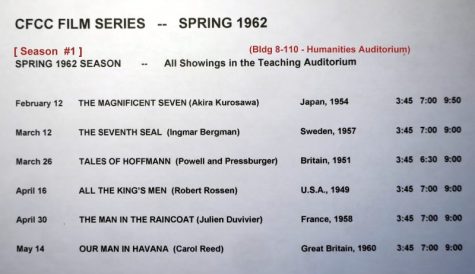 Holmes is extremely proud of the series today.
"It's 60 years old—or young. A lot of these film series don't exist anymore. The competition with television and streaming is pretty serious, so I am glad that we survived, and I am absolutely pleased that people are still coming to see and to talk."
The films are being shown Tuesdays at 2:00 pm at the Appleton Museum and 7:00 pm at the Ocala Campus, 8-110.
Adams faced a new set of challenges in recent years with the introduction of COVID-19. What was usually an in-person event had to be adjusted to meet the CDC mandates.
"During that lockdown last year, I selected public domain films that could be legally screened from the safety of one's own home," said Adams.
She continued, "We also offered screenings at the Ocala Drive-in for those who wanted to get out of the house and enjoy public life but still remain safe."
Adams went on, "This year I had to postpone the season start because of the Delta Variant outbreak. But the series had survived all of these challenges and is going strong in its 60th continuous year at CF, making the CF Ira Holmes International Film Series one of the longest continuously running College film series in the country.
Adams talks about the newly added after showing discussions.
She said, "we have had scholarly film talks about the films on Wednesday after each screening (during activity hour) on Zoom. The participating scholars live all over the country with most of them donating an autographed copy of one of their books to help the film series generate funds."
After a successful first 60 years, Holmes is excited about the future of the International Film Series and hopes that it continues to thrive as it has.
In his last remarks, Holmes quotes Gean Siskel and Roger Ebert in saying: "See you at the movies!"