Professor Jon Schneiderman's role at CF
Jon Schneiderman is a professor at CF's Citrus campus.
Schneiderman grew up in Miami Florida where he was a scuba diving instructor for 20 years. He also lived on a boat for 10 years.
During this time, he was working on a liveaboard dive boat. "I would take 32 passengers from island to island," said Schneiderman. 'Some years we'd do the Bahamas; some years we'd do Belize."
On these weeklong trips to different islands the passengers were able to experience diving at each place they went.
How did Schneiderman go from diving in different countries to teaching? Well, contrary to his first job, Schneiderman's parents were both teachers.
"I went to graduate school and that's when I decided my parents were pretty smart," said Schneiderman. "I could have summers off, and spring break off."
Schneiderman has had two types of jobs in his life. Diving and teaching. Each position he's accepted has related to these passions of his.
When Schneiderman started teaching at CF it was only part time, because he was new to being an instructor. Schneiderman was also a dive safety officer and marine operations manager for Florida State University.
Later on, Schneiderman decided to come back to CF. He was offered a full-time position on the Citrus campus when he applied.
"By the first minute I stepped foot on this campus, I knew this is where I wanted to teach," said Schneiderman. "I love the fact that it's so small, and I get to interact with my students."
Schneiderman teaches literature and English composition classes at CF's Citrus campus.
"I always loved to read, and write" Schneiderman said, "if it were up to me, and if we offered more literature courses at CF, I would teach all literature classes."
In the Write Mind is the literary magazine at CF's Citrus campus. View here: In the Write Mind > College Of Central Florida (cf.edu)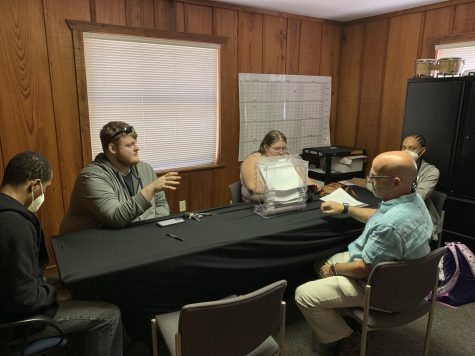 "I never had any training in publishing magazines, or in how to design a magazine," said Schneiderman, "I've been kind of learning on the fly."
Schneiderman's role at In the Write Mind is to oversee and advise the staff. He allows them to run the show since it is the student's magazine.
William Bryant is the editor of In the Write Mind. According to Bryant, Schneiderman is "more of a manager who sets the guidelines."
The magazine is published once each school year. When funding was higher it used to be once a semester.
In the fall is when In the Write Mind takes its submissions and holds literary events and contests. Students submit their art or writings, and the staff votes over which pieces make the cut. This is where the content for the magazine comes from.
Marjorie Johnston, designer of the magazine, said, "Some professors offer extra credit for students who submit." According to Johnston, submissions are typically received through a link in the previous year's magazine. Here is an online link: In The Write Mind Submissions (wufoo.com)
If a student is hoping to have their work considered for publication, they should submit it before the magazine's publication date.
In the Write Mind's publication date is in April. "We meet during student activity hours on Monday's," said Schneiderman. "This part of the year we start meeting two days a week, because we have to get this magazine out the door."
The Florida State College Publications Association is holding a conference in Tampa Florida from March 31st-April 2nd. According to Schneiderman, there will be four students from In the Write Mind there.
"There are workshops on the best ways to design magazines, and the best ways to get submissions," said Schneiderman.
Students attending the conference will get to experience these events. Johnston is one of the students attending the conference. "I hope to get helpful critiques and ideas to make the magazine better," said Johnston.
There will also be an awards assembly at the conference. Schneiderman among the four other students will be present at the convention.
However, Schneiderman is hopeful that he will be able to sneak away from his Disney weekend at some point and make it to the conference. He hopes to make it in time for the awards ceremony.
Over the course of his life, personally and professionally, Schneiderman has typically been involved in either water activities or English and literature. His passions have been relevant to each career he has held. From diving, to teaching, and advising a literary magazine.
As far as working alongside him, "Schneiderman is both friendly and personable," said Johnston.
Bryant has taken his classes and believes "he's a great guy."
Any student looking to be a part of the staff for In the Write Mind should email Schneiderman at [email protected]