Educational visas being put on ice
International students facing post Covid obstacles to attend CF
As the world attempts to return to a new normal post pandemic, some changes are evident particularly in the classroom. 
The pandemic had a significant impact on international student enrollment, which is visible in CF classrooms. 
A part of the U.S. Immigration and Customs Enforcement (ICE) is the The Student and Exchange Visitor Program (SEVP).
According to data from the Student and Exchange Visitor Information System (SEVIS), 2020 saw a 72 percent decrease in new international student enrollment compared to 2019.
CF had a significant decline in international students as well, SEVIS student enrollment amongst F-1 students (academic visa students)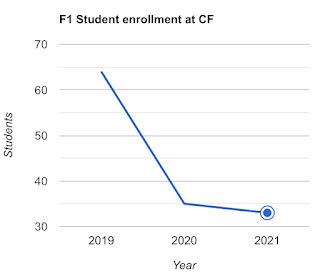 The graph clearly depicts the sharp decline of SEVIS students at CF over the past couple of years going from 64 in the fall of 2019 all the way down to 33 during the 2021 fall semester. 
The decline in students can be attributed in part to all of the Covid travel bans that went into effect such as those from China and Europe by March 11th, 2020
The Assistant Director of Admissions & International Student Services, Lory Coffey stated that, "Another crucial element that affected international students are the closure of US embassies/Consular Offices and suspension of visa services which started July 2020."
Without access to routine Visa services, it should come as no surprise that F1 students have taken such a major hit in enrollment since the pandemic. 
Despite the pandemic still being a factor contributing to many college students in America attending classes on a fully virtual schedule, that isn't allowed for F1 students.
Per USNEWS, those not enrolled in a program of study by March 9, 2020, aren't permitted educational visas to enter the United States for fully online courses. 
Taking that into consideration, attending college in the United States requires more health risks for international students than domestic ones, which may also play a factor in reducing enrollment.
Losing international students in the classroom also means losing out on the blending of different cultures throughout CF.
CF student, Josh Rodriguez, has lived in both Puerto Rico as well as Florida amongst other states and expressed his thoughts on the perspective he's gained.
"Going back and forth between two cultures and languages, it's almost like two entirely different worlds. It makes me more aware of how different and diverse the world is," said Rodriguez.
The exchange's that Rodriguez has experienced have helped build a more worldly perspective, these types of interactions are less common at CF due to the lack of F1 students currently enrolled.
Without interactions between different people of different cultures and first languages, views become narrow. 
Jean Scheppers, Associate Professor of Foreign Language at CF, acknowledged the added perspective languages give people.
"As a nation we suffer from a self-inflicted blindness which limits how we are able to express things and affects how we see ourselves and others," said Scheppers.
Though F1 students currently face obstacles, in the future CF students of all backgrounds will have more diverse perspectives to share, leaving hope for a better tomorrow.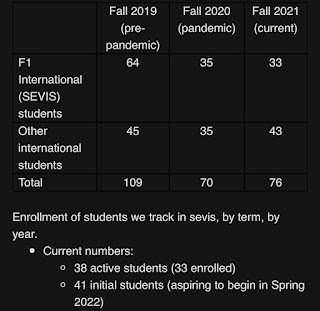 Articles on website:
https://thepatriotpresscf.com/1152/home/suncoast-shining-a-youthful-light-on-cfs-citrus-campus/
https://thepatriotpresscf.com/1228/home/deconstructing-the-student-debt-debacle/