Big Lee's serves students barbeque with side of motivation
Rashad Jones shares life stories at Dassance Fine Arts Center
Barbecue was on the menu last Monday, Nov. 29, 2021, when owner of Big Lee's BBQ, Rashad Jones gave a motivational speech to CF students.
This event took place outside of the Dassance Fine Arts Center, where students are often welcomed to join different student life activities, most of which can be found listed here.
Jones gave a motivation-focused speech to students by recounting how he entered the barbecue scene and his time hosting his TV show.
After his speech, all 60 students were served pork or brisket sandwiches from one of Big Lee's food trucks, which served 125 sandwiches in total.
Director of Student Life, Marjorie McGee believes that it is important for students to learn from local citizens who have made successful careers.
"…One hundred percent the reason why we look for individuals like Rashad… it is never too late to figure out your passion," said McGee.
Jones taught himself to smoke meats in the backyard of his own home, eventually gaining enough confidence to serve his family and friends.
Soon after, a series of moments including winning a barbecue competition led him to turn his newfound love of serving barbecue into a career.
"Each one of those conversations and statements put the idea inside of my head…I wonder if this actually would sell," said Jones.
Jones's barbecue did in fact sell, and it kept selling until July 12, 2014, when Big Lee's BBQ officially launched here in Ocala.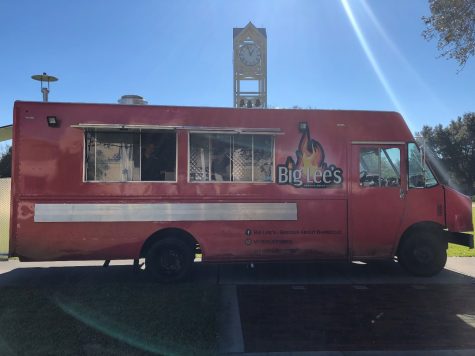 Big Lee's food trucks are always moving across Ocala, so check out Big Lee's Instagram or Facebook accounts for truck location updates throughout the day.
Jones's humility and approach to how he runs Big Lee's has created an experience he described as "very organic."
"We cook on live woodburning smokers… There's a human, there's wood, and there's fire and there's meat, I think it's very primal," said Jones.
When asked to explain his philosophy, Jones said, "I don't define barbecue as just cooking something for a few hours…It's really about the magic that smoke creates."
In 2017, Jones won his own TV series on the Food Network after becoming a finalist on Guy Fieri's show "Guy's Big Project"
Jones's show named "Eat, Sleep, BBQ" aired six episodes on Food Network where he reviewed barbecue nationwide.
Jones later learned that hosting a TV show came with unexpected challenges that he had to leave his comfort zone to overcome.
"It was incredibly challenging to offer production inside of my show, where we're (going to) shoot at, which restaurants do we (want to) go to," said Jones.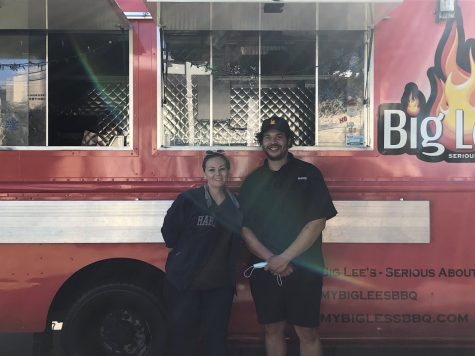 One of Big Lee's trucks is run by Tyler Frederick, who was compelled to work for Jones by the environment of the company.
"My favorite part [of the company] has to be the environment, everyone is always lending a helping hand," said Frederick.
Big Lee's has become a staple in Ocala's local food culture, and Jones hopes to show the whole world that Ocala is a barbecue city.
"We're making a name for ourselves, and I think it's having a very positive influence on Ocala and I like it," said Jones.