Excellent turnout for international food festival
Celebration of diversity with food, friends, fun
There was no international food festival in 2020 at CF because the pandemic took it away, but that was not the case this year.  On Wednesday, Nov. 17, 2021, students flocked to the Klein Center on campus looking for food, friends, and fun, as they celebrated diversity and inclusion on campus in Ocala. 
The event was put on by the CF Student Activities Board, and featured themed menus from seven countries, each represented by a different student organization.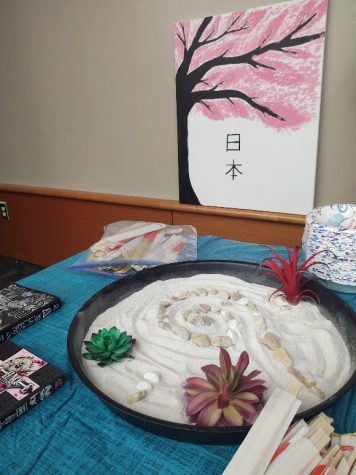 Japan was represented by Imprints, the Literary & Arts Magazine, which offered a menu of chicken fried rice and rice pudding.  They also created a Zen garden as a visual for their booth. 
Sweden was represented by the newly formed Volleyball Club, offering an outside recreational activity for students, and presented a menu of Swedish meatballs and Swedish Fish. 
Colombia was represented by the Young Politicians Club, and they chose to go with a selection of items from a local Ocala restaurant, Latinos Y Mas.  In addition to their decorations, they also provided a vibrant atmosphere by playing traditional Colombian music via a laptop at the booth. 
Germany was represented by the International Club, and put together an offering of beer braised sausage, potato pancakes, and apple Kuchen. 
Mexico was represented by the Theater and Drama Club and presented their menu in the form of live entertainment, as Landon Williams, 22, a theater major, made fresh carne asada for his audience.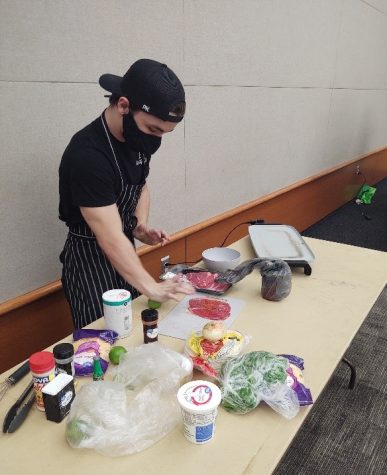 While enjoying an assortment of menu items, Asiya Intiaz, 18, a first-year student here at CF, was asked what she enjoyed most about food festival. 
"Getting to try a lot of different foods was something unique", Intiaz said.  "It was fun meeting friends and bringing people together". 
Intiaz was earning credit for attending a CF event as part of a First Year Seminar class. 
Providing opportunities to interact with other students and learn about diversity is something that Marjorie McGee, Director of student life at CF, is enthusiastic about. 
"We didn't do this event last year because of Covid, so having this many students in one place is pretty exciting", McGee said.  "It's a cultural experience for students right here on our own campus." 
The event put together a panel of judges to decide who won awards for best decorations and best food.   
"The panel of judges", McGee said, "is made up of randomly selected students and staff who are not affiliated with the clubs and organizations in the competition". 
First prize for best decorations was awarded to Greece, who not only put a lot of work into their booth, but also finished as runner up in the best food category.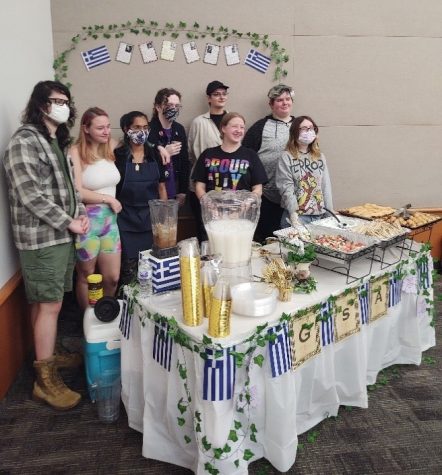 Greece, represented by the Gay Straight Alliance Club here at CF, had some of the longest lines at the event.  They offered a creative menu of Soumada, Greek frappe, souvlaki, pita with tsiki, Greek salad, and baklava. 
The Greek frappe was made to order right in front of you, as the group interacted seamlessly with their audience. 
The top award of the night, the award for best food, went to the Phi Theta Kappa group for their interpretation of Italy. 
Their entirely homemade menu of ceasar salad, pesto rotini, ratatouille, tomato cavatappi, meatballs in a rustic red sauce, and tiramisu delighted both the attendees and the judges. 
Brian Holloway, president of Phi Theta Kappa, and designated chef for team Italy, was asked if he would share his recipes. 
"No", Holloway said.  "I've been cooking for 32 years, and I have probably never shared a recipe with anybody." 
When asked why he decided to participate in the event this year, he talked mainly about the importance of "Interaction". 
"The last year especially has been hard on everybody", Holloway said.  "It's easier to make friends and be with friends when you are able to be in person.  These types of events are nice because they bring everybody back to together.  It's good for the soul."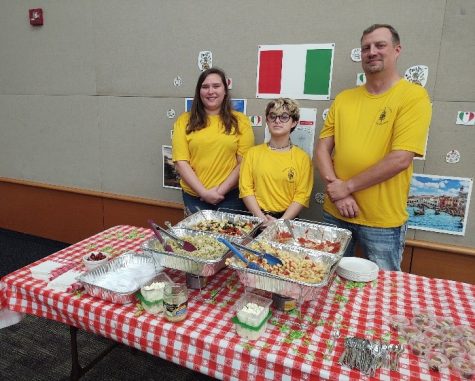 Organizations like the seven that were part of this event offer students a creative way to be more engaged during the course of their education.  All current organizations at CF can be found here, and students are encouraged to come out and be a part of the CF community on the Ocala campus. 
"Phi Theta Kappa is the oldest community college honors institute in America", Holloway said.  "We do service activities, we volunteer where we can, and it's just a great way to meet other people." 
With live events like this one, and other recent events like Kane Smego of the speaker series, students are starting to show their school spirit more and more as things open up. 
"This event was great", Holloway said.  "It was nice to see a large turnout.  I'll be back next year."