Student Activities Board throws very first fall festival
Starting off new season with spooky successful student event
"Why make Halloween scary when it can be fun instead?" is a question that has been tackled by the Student Activities Board with their first annual Fall Festival.  
Students were required to show id at the event, which took place at CF's Bedford Plaza on Wednesday, Oct. 27, from 12:30 p.m. to 1:30 p.m. 
The Fall Festival is a new idea brought to CF by Student Activities Board (SAB) member Brooke Rusak. She brought the idea over from her previous town.  
Rusak said, "As a kid I always would attend my churches Fall Festivals and after moving to Ocala to attend CF, I figured why not bring this event to CF as well." 
The festival had an abundance of treats that included cupcakes, candy apples and a "make your own trail mix" section with snacks like M&M's, popcorn, and pretzels.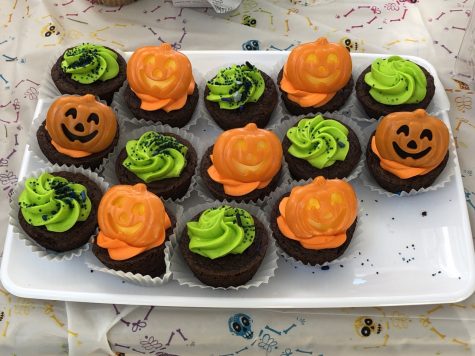 Setting up the festival took a several months of planning by the SAB, Appleton Museum, and other CF clubs, such as the Patriots Theater Company. 
The PTC ran a photo booth where students could take pictures with a couple members of the club dressed up as zombies and mad scientists.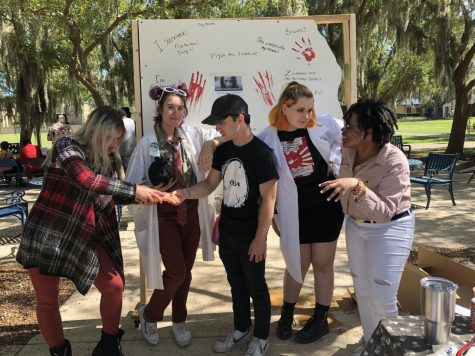 President of the PTC Landon Williams, 22, oversaw the two-month planning process for the festival, where his hard work resulted in positive reviews for the photo booth.  
"[The festival] has been so far, a lot of fun. Everyone's having a good time. We've had a lot of interest in our table which has been nice," said Williams.  
Events like the fall festival is one of the many ways for students to get involved in the CF community, which Williams believes helps keep students in school. 
Students had no problems finding interesting things to do, such as playing connect-four, cornhole, cup pong, putt-putt golf and throwing pie in CF Professor Dr. Jose Toro-Clark's face.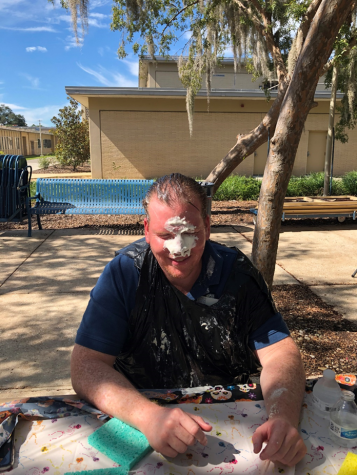 The pie game was a favorite for Freshman and Student Activities Board member Jeffery Cooper, 18, who was pleased with the number of students that went to the festival.  
"Lot of students came out. Good opportunity for kids to come out and celebrate Halloween with their friends," said Cooper.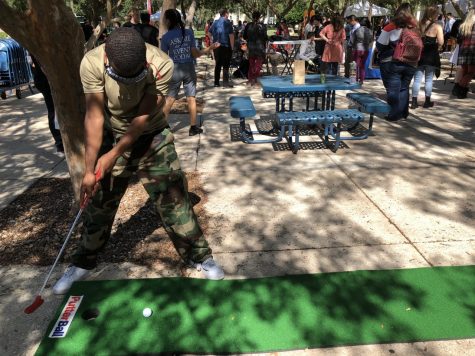 Putt-putt golf was another game offered during the festival. Students had to wear "drunk goggles" that obscured their vison, leaving a challenge that drew people towards the green putting lane all day.  
The SAB wrapped up the festival by leaving many students who attended in the Halloween spirit with candy, costumes, and a welcoming atmosphere. The SAB has high hopes to turn the Fall Festival into an annual tradition.  
"I'm hoping this will become a new tradition at the college every year," said Rusak.