Weekend Series Sweep For The Patriots
The red-hot Patriots take the weekend by storm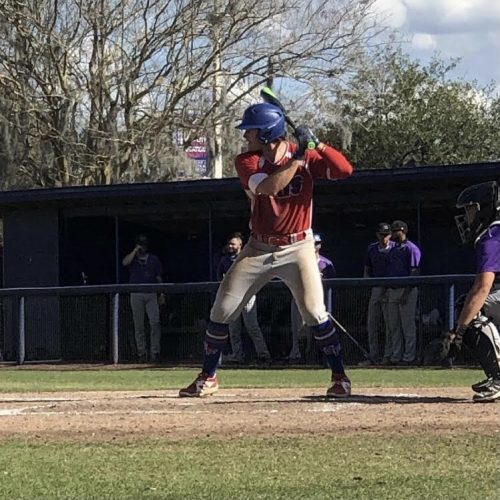 On Friday afternoon, the CF Patriots went against Tallahassee Community College Eagles. Francisco Mateo #7 took the ball to start the weekend for the Patriots.
In the first inning, Mateo didn't need the defense striking out the 3 batters he faced. The Patriots took advantage of the momentum and opened the scoring up quickly by scoring in the bottom of the first.
Mateo, only in his second start of the season, struggled in the second inning, eventually being pulled by head coach Marty Smith. Mateo ended the afternoon only getting five outs. All five being strikeouts.
Nick Love took the ball for the Patriots and despite early season struggles of his own as a starting pitcher, he has rallied back for the Patriots as a reliever. He threw the next five innings for the Patriots.
Love, relief pitcher, said, "I've mainly just been focusing more on being confident in myself and trusting that I will hit my spots."
Soon enough, the Patriots rallied back. The offense slowly chipped away at the 5-1 lead that TCC held. First-baseman Garrett Wallace took the lead for the Patriots with a double in the sixth-inning that scored two.
After the second inning, the Patriots outscored the Eagles 12-2. The final score of the game was 14-7 and CF moved to 17-5.
On Saturday, the Patriots played ASA College, which is based in the North Miami-Dade area. Southpaw (LHP) Kyle LaCalamento took the ball for the Patriots.
In the first inning, LaCalamento gave up an early score to the ASA College Silver Storm. He had faith in his offense, and they helped him out, scoring eight runs in the second inning.
A sacrifice fly by second baseman Carlos Gonzalez, a double by first baseman Jackson Taylor, a pair of singles by third baseman Matt Cedarburg and catcher Kyler Hultgren, and finally a home run by Garett Wallace capped off the eight run second inning.
LaCalamento said, "I always trust my offense. There was no doubt in my mind that we weren't going to be able to score. Once we took the lead I knew it was crucial for me to do my part."
The final score ended up 11-3 in favor of CF. Many helped to score 25 runs over the two games, but one, Garett Wallace, seemed to find himself in situations when the games were close and each run counted.
On Friday, Wallace had two hits in his five at-bats, but his sixth-inning two-strike double helped the Patriots take a lead they would never relinquish.
On Saturday, Wallace would find himself in another high-profile situation, with two-runners on, two outs up 5-1, he launched a home-run over the wall in left-field.
This essentially dashed any hopes ASA had off coming back.
Wallace said "Everyone in the lineup is hitting the ball extremely well, the dugout has been electric the past few games and with conference play starting on Monday, it's a perfect time for the Pats to be firing on all cylinders."