The 411 on Atlanta's Dance 411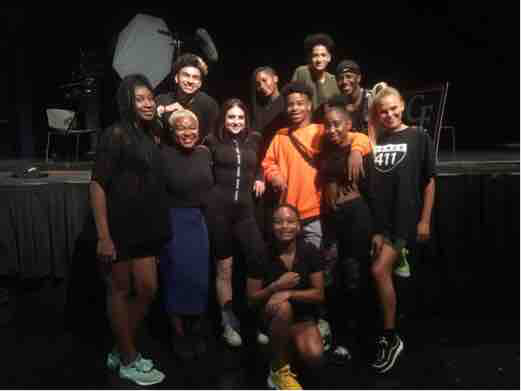 For the Student Speakers Series on October 30, Sindy Schneider was invited back to the CF campus to talk about how she followed her heart and mind while being financially smart in building her own dance company, Dance 411, in Atlanta, Georgia. 
Schneider is a CF alumnus who majored in business and finances. She was able to pay for her college education through a cheerleader scholarship procured for her by her lifelong mentor, Debbie Bowe. Schneider gives a lot of credit to Bow for all the opportunities that she provided for her. 
After graduating in 2014, Schneider moved to Atlanta, where she quickly saw a demand for a dancing agency in the southeast. 
"Dancers at the time were at the bottom of the totem pole in the southeast," Schneider said. As she danced for TLC and saw what the local dancers were going through, Schneider wanted to educate dancers to be respected and passionate.
Drawing from her education Schneider was able to recognize that there was a need for a dancing agency and began creating a demand for her own. She and her husband sent out a newsletter with information about the dancing community and got 1000 customers within her first month. She did all of this without any extraneous funds in the bank. 
Today, an average of 200 people come thought Dance 411 doors every day, seven days a week. With her company slogan "The floor is yours," Schneider and her 150 to 200 dancers have worked with modern artists such as Lizzo, Chris Brown, and Missy Eliot. As well as been involved in projects like Insatiables and The Darkest Minds. 
At the Students Speaker Series, a group of Schneider's dancers preformed four group acts, starting with a number titled "Dear Lord," With stomps of feet and wistfulness of hands, the dancer's introduced Schneider to say a few words. 
Trying to be an encouragement to the young minds in the audience, Schneider spoke about her journey forming her company and how she aimed to take everything she learned and use it to her benefit. She also endorsed being passionate, driven and not giving up on one's self. She said whatever it is that you want to do in life, we need it. 
After two more performances, Schneider took that time to recognize another person who has become a huge part of the Dance 411 company. Broke Bowe, Bowe's daughter, was taught how to dance by Schneider, just as Schneider was taught by Bowe Sr. As a student of Schneider, Bowe took off in her dancing career after she too graduated from CF and moved to Atlanta. 
Taking advantage of the teaching opportunities for dancers at Dance 411, Bow now choreographs dances not just for Dance 411, but for movies such as Insatables and music videos for well knows artists. Bowe choreographed the dance "Dear Lord," and all the woman's numbers that was preformed at the Student Speaker Series. 
After a final upbeat dance, all the dancers came back on stage and introduced themselves. One woman, Cila Sercie, has been with the dance company for six years. "I found Dance 411 and took one class and automatically fell in love and got a new family and new friends," Sercie said. 
All the dancers spoke about their background, achievements they had made, and their experiences at Dance 411. The mic was then turned over to Bowe who gave a small speech that left her teacher, Schneider, in tears. 
"I'm blessed to be here. Anything is possible for these kids and I can't imagine my life without this," Bowe said.
Story & photos by: Trinity Salcedo