Music festival in Leesburg promotes social and environmental issues
An Eco-Lover's paradise, The Planet Festival is a four day music festival, that promotes social and environmental issues. Along with having over 35 bands performing at the festival, there will be countless vendors and attractions to explore.
Along with Sunday headliner, Irlene Mandrell, all kinds of music will be featured, from indie to blues, and even some orchestral music. The Planet Festival will be featuring several local bands in their line up.
"The Holey Miss Moley, the runner up in the Best of the Bay awards in Tampa, will be there," said Audrey Hamberger, helping hand to the founder of the event, Cosmo Easterly.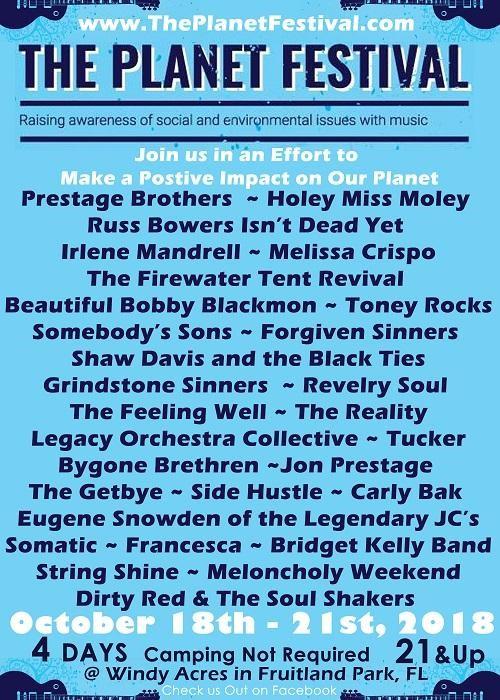 Among a whole host of things, The Planet Festival will have art exhibits made completely of recycled materials, live welding, and stand up poetry. One exhibit at The Planet Festival will be put on by one of the professors at CF. Amy Cantrell, a math professor on campus, will be making art with pendulums.
Another feature at The Planet Festival will be demonstrations of medical qigong.
"Medical qigong is about taking energy and pushing it through people to heal them," Easterly said.
However, the most important part of The Planet Festival is not the things it has to offer, but the message behind it. The Planet Festival is about having the most impact on the issues in the world, while having the least impact on the world.
"Be aware," said Easterly.
The message is simple. Be aware of how the actions of one effect the world. Every piece of trash left behind, every gallon of water saved, it all effects so much more than the individual.
On the quest to teach mindfulness, The Planet Festival will have plastic bags lining the fence of the event.
"What we want people to do is take a plastic bag off the fence, put a plant in it, and take it home," said Easterly. "Be aware of what you're doing."
Easterly aims to inspire people to actually think about how they affect the world.
The ladies of The Belleview Baptist Church will also be weaving bags made of recycled plastic bags for the homeless. Then, on Sunday, they will be teaching how to weave the bags with a loom.
"Noble Roots, a completely sustainable, GMO free farm in Eustis, FL will be providing all of the ingredients for the event," Hamberger said. "The food will also be served in fully compostable units."
Easterly, who is on the board for Ocala Outreach, will be involving the program Feed the Need. Run by the owner of Mojo's Restaurant, Ron "Rondo" Fernandez, Feed the Need helps needy children in the Ocala area.
"Imagine growing up and not having the basics," Easterly said. "That's why we're doing this."

The Planet Festival will be taking place from October 18th through the 21st in Fruitland park. There will be established campgrounds with outdoor showers heated with propane. The only rule: Leave zero waste.
"The people on here are very positive," Easterly said.
Everyone is going to come out for a common goal of appreciating music, experiencing new things, and helping make the world a better place.
"Help make a positive impact in the world," said Hamberger. "Come to the festival and support our local musicians. Be the change you wish to see in the world."
Story and photos by Lily Carnival