Celebrating Hispanic Heritage Month at the Appleton
On Saturday, Oct. 8, the entrance to the Appleton Museum of Art was alive with vibrant colors, booming music and savory aromas as Ocala residents gathered to celebrate National Hispanic Heritage Month.
Co-hosted by CF Student Affairs, the Appleton's Hispanic Heritage Festival featured sales and information booths by local Hispanic-owned businesses, as well as several Latin food trucks. Guests enjoyed music, art activities, prize giveaways and free admission to the Appleton Museum.
Inside the museum, visitors enjoyed more features of the Appleton's Hispanic Heritage Month series, including: additional booths, a presentation on Hispanic women's issues by historian Dr. Rebecca Dominguez-Karimi and "Sintiendo la Exposición," an exhibition of contemporary art by Latin-American artists. This exhibition will be available until Jan. 8, 2023.
Attendees even had the opportunity to take photos with sisters Mirabel and Isabela from Disney's 2021 animated film "Encanto," which is set in Colombia and features a full cast of Latino characters. These character actors attended from Once Upon A Party.
Despite being delayed a week from the original date of Oct. 1 due to Hurricane Ian, the festival still saw great turnout.
Events like this year's Hispanic Heritage Festival provide an accepting, educational and fun environment for Hispanic American members of our local community, especially families, creatives and business owners. However, people of all backgrounds can enjoy and learn from these cultural appreciation events.
When asked about the significance of the festival, CF Student Ambassador Kyle Odlum commented, "I think it's important to be inclusive and have events that will welcome all types of people."
Odlum added that his favorite part of the Hispanic Heritage Festival was his involvement with community service.
"I love just interacting with other people and helping the community," Odlum said. "It gives me a sense of satisfaction."
Sarah Duswalt, a representative for local business Worthmann Roofing, agreed.
"I like that everybody came together as a community," said Duswalt. "There's so many small businesses here, and it's really great to see everybody be able to come out, come together and have a really good time."
Cultural events, like the Appleton Museum's Hispanic Heritage Festival, which celebrate diversity, promote creativity and support small businesses are incredibly beneficial to the local community. Events such as these are especially important for historically marginalized groups and minorities. Participating in events like this means supporting the success, joy and livelihoods of local Hispanic business owners and families.
View Comments(1)
About the Contributor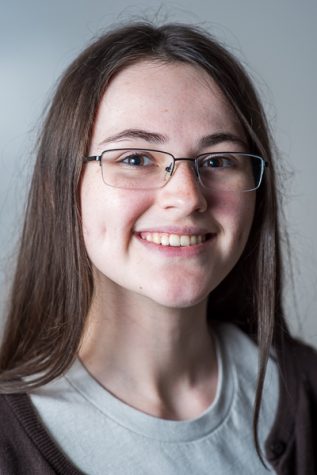 Elora Pfriender, Editor-in-Chief
Elora Pfriender is an Associate in Arts student at CF and the current editor-in-chief of the Patriot Press. She is also one of CF's student ambassadors.