Spoiler Review: "Shang-Chi" provides breath of fresh air for Marvel
New blend of martial arts, humor leaves movie-goers speechless
The future of Marvel movies looks promising after "Shang-Chi and the Legend of the Ten Rings" arrived in theaters on Sept. 3, 2021, and on Disney Plus Nov. 12, 2021. 
To find out which theaters and streaming services are playing "Shang-Chi and the Legend of the Ten Rings" near you, click here. 
I sat down and watched "Shang-Chi" last Thursday, expecting a carbon copy of the past few Marvel movies, however, I now stand corrected. The film introduces us to Marvels latest superhero in "Phase 4" of the Marvel Cinematic Universe, that being "Shang-Chi" played by Canadian actor Simu Liu.  
Even though most Marvel movies start with a flashback, I feel like Shang-Chi's opening scenes gave the villain, Shnag-Chi's father Xu Wenwu (Tony Leung), a reasonable motive.  
This take on the character backstory brought back memories of the character "Erik Killmonger" from the 2018 movie "Black Panther" because of how humanized both villains are.  
Director Destin Daniel Cretton did an excellent job picking his cast of main characters, like the character Liu who portrayed an immature young adult and a skilled fighter perfectly. 
Shang-Chi's best friend Katy Chen (Awkwafina) was scripted in as comic relief, but stayed serious when she needed to be, which was important to the intense plot. 
Leung's expressions throughout the entire movie alternated between empathetic and apathetic regularly which showed how after 1,000 years of violence, he still had love in his heart.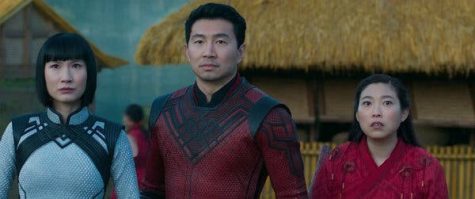 The martial arts fight scene on top of the fight club in Macau was unique with its fast pace and the balance shown by the characters. 
The choreography from Shang-Chi and his sister Xialing (Meng'er Zhang) felt like it echoed scenes from Jackie Chans' movies during the late seventies and early eighties.  
The second act allowed the fighting to take a back seat and further establish some of the development of other characters, as well as the movie's setting.  
Almost all of the movie was filmed at Fox Studios in Sydney, Australia except for the opening scenes, which were shot in San Francisco during most of 2020. Most scenes in the "Ten Rings Compound" and the mythical village of Ta Lao held my attention and did not feel like they drug on during the two-hour movie.  
I am thankful that the training sequence of the film was short but impactful, showing that even Katy's character can make something of herself if she tries. 
Most Marvel movies end with a large landscape sized battle, but Shang-Chi improved it by highlighting how different the Ten Rings and the village were. The Ten Rings showed up to the village with armored trucks, and electrified crossbows, while the village's citizens used bows and staffs made from dragon scales.  
This created a scene that provided a deeper meaning of modernism versus tradition and challenged our idea of reality versus the fictional places that Marvel creates. 
The final fight between Shang-Chi and Wenwu at the mountain's gate created more chemistry between the two characters than any amount of dialogue could.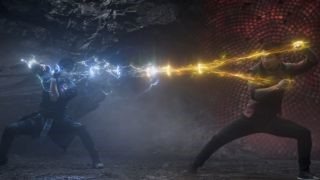 This scene showed Shang-Chi's development from someone who feared his dad, to besting him and ultimately failing to save him from his own mistake.  
Wenwu's decision in his dying moments to give Shang-Chi his ten rings showed that he always loved his son, regardless of what they went through.  
Marvels decision to try something vastly different from their prior movies and can be explained perfectly by one quote from Master Guang Bo (Yuen Wah): "If you aim at nothing, you hit nothing."