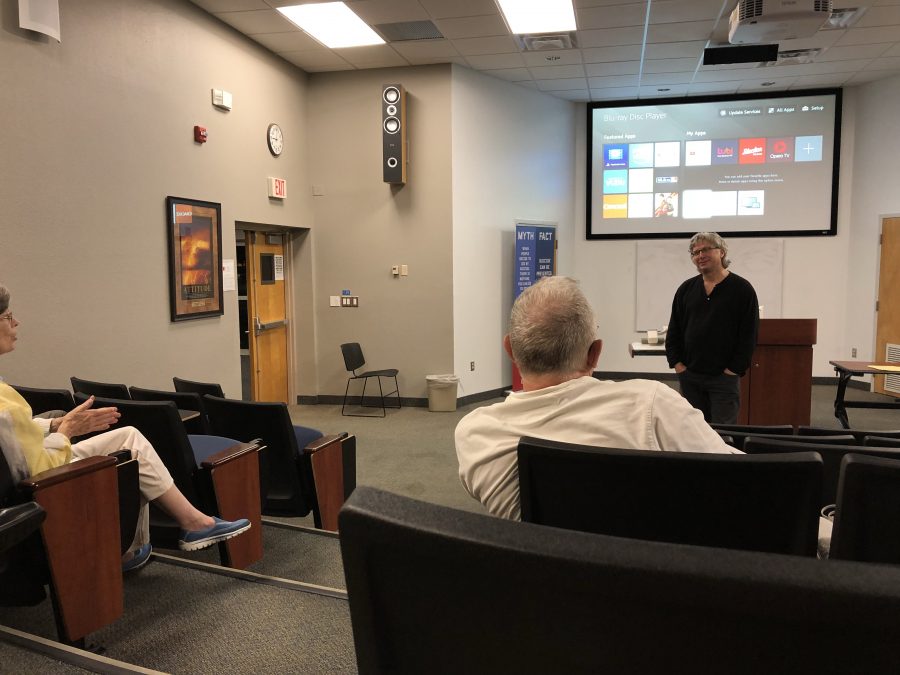 As a part of the CF Foundation's International Film Series, The Second Mother was screened on Tuesday evening in the Building 8 Auditorium at CF's Ocala Campus.
The Second Mother, was screened twice on Tuesday. The first showing was in the afternoon at CF's Appleton Museum. The second showing was in the evening in the Auditorium.
About 20 members of the community and CF Foundation donors gathered in the small auditorium to watch the film and be enlightened on foreign culture. Although no students were at the showing, it was completely open to the public and any student who wished to come.
The Second Mother is a 2015 Brazilian movie shot in Portuguese with English subtitles. The movie tells the tale of a servant woman, Val, being reunited with her daughter who she gave up early in life to be raised by another woman. As the film progresses, it shows Val slowly breaking the cycle of family separation that she became far too comfortable with. The film ends with Val bringing her family a much-needed sense of unity as she and her daughter move in together.
Joe Zimmerman, a CF communications professor from the Humanities Department, led a short discussion with audience members after the film ended. The discussion gave attendees a way to unpack various aspects of the film.
During the discussion, audience members voiced their thoughts on different themes and portrayals evident within the movie. Some audience members found the differences in American and Brazilian family dynamics to be quite stark and fascinating. Others found parallels between The Second Mother, and the American film The Help.
According to Zimmerman, The Second Mother, went along with this series' theme of family conflict and reconciliation. Zimmerman thought that this film's theme of bringing family together after separation goes along perfectly with the rest of the series.
Zimmerman believes that showing international films like The Second Mother show people just how similar members of different cultures truly are. As alien as other cultures may seem, Zimmerman thinks all people still have a lot of commonality, which foreign movies display quite well.
"The world is getting smaller, and it's more and more important that we understand each other; whether we are from this country or another country," Zimmerman said. "I find that foreign film is almost like a window into other cultures."
"I have enjoyed this film a lot," Zimmerman said. "I like the irony of the protagonist finally breaking the cycle and bringing the family together at the ending."
The International Film series will be continuing in two weeks with two showings of The Fencer on Tuesday, October 23. The first showing will be at 2 p.m. in the Appleton Museum; the second showing will be at 7 p.m. in the Building 8 Auditorium at CF's Ocala Campus.
If anyone wishes to support or partner with the CF Foundation or the International Film Series, they can consider becoming a CF Foundation donor.
Story and photos by Noah Corcoran